by Nick Van de Hey, first-year missionary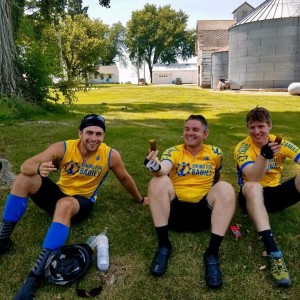 When I told family and friends that I would be biking from Green Bay to St. Louis, I think a lot of them thought I was crazy. I honestly thought, why not? 600 miles for a great cause sounds awesome… That was until I logged my first 45 minutes on the stationary bike, in the middle of Wisconsin winter, doing everything in my power to maintain the expected pace, and creating a small lake of sweat underneath the bike. Then I realized… this ride is going to be terrible!
Leading up to the ride, I had only been cycling for about 3 months, and I had barely totaled enough miles to surpass the week of the national ride. That being said, I felt prepared and ready! (Prepared for absolute suck.) I expected a week of pain, suffering, and offering it up for the women and babies we were riding for. I expected to prove my supporters right that I am crazy, and biking a ridiculously long way is not a "summer vacation."
Now, don't get me wrong: there were definitely elements of suffering and offering, but when I look back on my ride, I don't think about suffering—I think about joy. Whether it was a night spent with a family of 11, hearing stories from PRCs, hanging out at a Newman center, or jamming to Disney songs on the bike, the national ride was filled with joy of celebrating life. It was beautiful watching missionaries come from all over, bike through God's creation, share a mission, and serve others.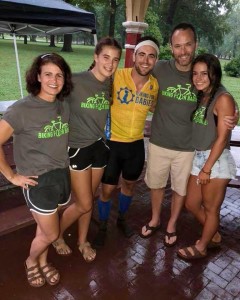 Reflecting on my ride, I realized there's something very special about serving God and serving others that brings so much joy. I was blown away by the service of our support crew, our hosts, and all of our family and friends. Not only did I have the opportunity to allow others to serve me, but B4B also blessed me with a week-long opportunity to serve women and babies. As Christians, we need to SERVE! Certainly we need to serve the people around us, but we especially need to serve the most vulnerable and defenseless—the unborn.
So the question arises, how are you going to serve? How will you provide for others and for the unborn? While I rode for a week, our PRCs serve women and children every single day. Where will you make your impact? I'm telling you the joy is real and it is worth it.
[Learn more about the PRCs we supported in 2018 here: www.bikingforbabies.com/prc-partners.]
---
ABOUT THE AUTHOR: NICK VAN DE HEY
My name is Nick VandeHey and I'm currently a student at St. Norbert College in De Pere, WI, studying business. Growing up I was blessed to compete in countless sporting events and I could not be more excited to use my gifts to help join the fight for life!
Life is such an incredible blessing and I am hopeful that my ride will speak for the unborn that will never have the opportunity to defend themselves. What I love about Biking for Babies is that it doesn't just promote the protection of life, but it actively provides for mothers in need at pregnancy resource centers.
When I logged my first 45 minutes on the bike I realized how challenging this ride will be, but also how important it is to defend the precious gift of life God has given us. Please join me in this fight through support and prayer! Now is the time to say no to the culture of death and SAY YES TO LIFE!