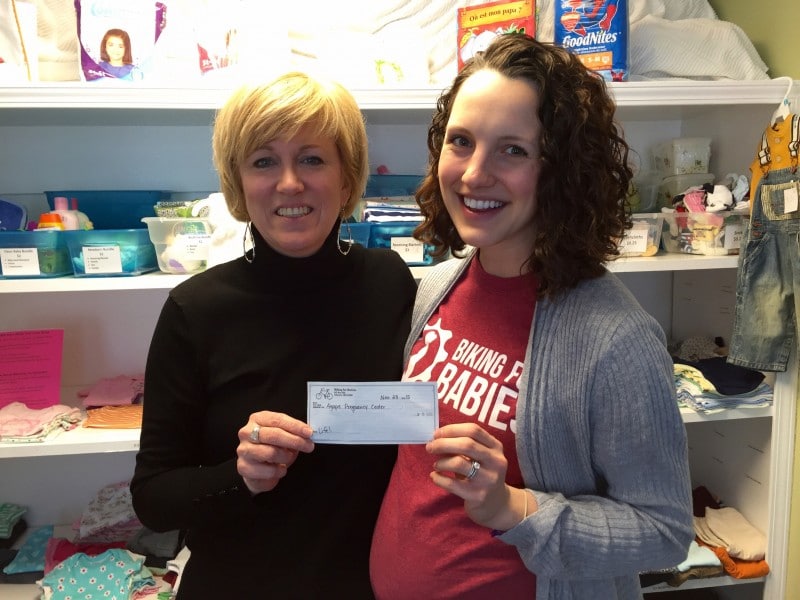 We are overjoyed to connect you with our PRC Partners for the 2017 year. All of your donations and prayers will go directly to the men and women who are served through these centers. All of these centers are pro-life centers; check out their websites!
To learn more, contact:
Sarah Voet
Pregnancy Resource Center Liaison
sarah.voet@bikingforbabies.com
If you are with a PRC, continue reading below to learn how we can support your center!
This summer the Planned Parenthood in Dubuque shut down, and the Clarity Clinic bought their building! They moved in there shortly after!! I asked if they had any girls that had come to the Clinic since they moved thinking it was PP and they said they definitely did right away. Some of the girls even decided to stay, and after seeing the ultrasound and talking with the staff they chose to keep their baby!
Chelsea after visiting Clarity Clinic
Your most generous donation in 2014 helped Women's Care Center of Milwaukee to grow our program offerings to include Budgeting, Single Parenting and a special class series Just for Dads. These programs reached hundreds more moms helping them to become more self-sufficient and to create a more nurturing family. In 2015, the Biking for Babies contribution will help us to grow our mission on Mitchell St. to serve even more pregnant Hispanic moms in need. This will include increased classes and Crib Club incentives.
Woman's Care Center Milwaukee
Lisa was told by her parents that she needed to have an abortion or move out of the house because "being unmarried and pregnant wasn't something a good Catholic Vietnamese girl did."
After finding St. John Paul II Life Center and the Vitae Clinic and all the support we provide for counseling, material assistance, and other referrals, Lisa delivered her son Khai and is now working and living on her own. Last August, Khai was baptized and Lisa's crisis client advocate from the Center was blessed to attend.
Saint John Paul II Life Center
HOW IT WORKS:
All PRCs must fill out the PRC Application each year to be considered for partnership.
Each PRC is chosen for financial assistance based on application responses and if a Biking for Babies rider or support crew member is available to represent you. PRCs are encouraged to recruit individuals to apply for a B4B rider or support crew member position, or to join with a rider in their area (riders will be listed on our website in March).
All final decisions on rider/support crew participation and PRC financial recipients are made by the B4B staff members.
The application process is now closed and the 2017 PRC Partners have been chosen based on the applications received. Partnerships will be announced soon!
Applications for 2018 financial partnerships will be open January 2018.
The proceeds will be used to purchase updated educational videos to be used in our Men's program to promote strong male roles in the family, the importance of the role of the father in a child's life, the emotional effects of miscarriage and abortion on both women and men, healthy relationships, goal setting, budgeting and financial planning.
Pregnancy Aid Clinic
During the March for Life in Chicago, one of our volunteers carrying a Women's Center sign stopped in a restaurant to use the restroom. The waitress behind the counter asked her if she was a protester to which she said no she was pro-life. The waitress said she was 75% pro-life and 25% not. Our volunteer asked if she believed in God and the waitress said yes. Our volunteer then told her that if she believed in God she could not believe in killing a baby, and showed her the sign which said "Life is a Gift from God." The waitress stepped out and confided that she herself was pregnant and considering abortion but was really confused and needed help. Our volunteer again showed her the sign which also said "The Women's Centers of Greater Chicagoland" and began to share with her the help that is available. The waitress was extremely happy and relieved and took all the information and phone number. She then told our volunteer, "This morning I asked God to send me a sign if He didn't want me to have an abortion." And He literally sent her one!
The Women's Center of Greater Chicagoland
One story that sticks out is about a young woman who had an abortion in her past, and was considering another abortion if the test was positive. She thought that since she'd had one abortion that another would not be any big deal. The test was positive and the patient was devastated. After visiting with her patient advocate and receiving the truth in love, seeing the ultrasound of her baby, and having a few days to process everything, this patient chose life for her baby! She is working on becoming a very good mother in the midst of other hard life circumstances. We feel very privileged to have been able to partner with God to show her His love and His grace, and the Truth about life – both life in the womb, and eternal life!
Wyandotte Pregnancy Clinic in Kansas City, KS