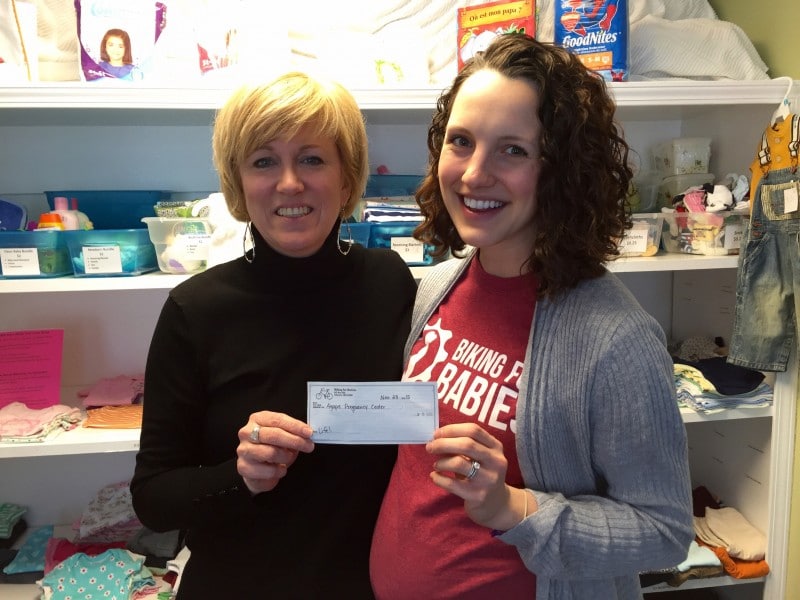 OUR PRC PARTNERS
Our application for 2018 has closed, and we are in the process of reviewing applications. Please keep us in your prayers as we go through this process together!
To learn more, contact:
Jonathan Simpson
Pregnancy Resource Center Liaison
jonathan.simpson@bikingforbabies.com
If you are with a PRC, continue reading below to learn how we can support your center!
The proceeds will be used to purchase updated educational videos to be used in our Men's program to promote strong male roles in the family, the importance of the role of the father in a child's life, the emotional effects of miscarriage and abortion on both women and men, healthy relationships, goal setting, budgeting and financial planning.
Pregnancy Aid Clinic
Your most generous donation in 2014 helped Women's Care Center of Milwaukee to grow our program offerings to include Budgeting, Single Parenting and a special class series Just for Dads. These programs reached hundreds more moms helping them to become more self-sufficient and to create a more nurturing family. In 2015, the Biking for Babies contribution will help us to grow our mission on Mitchell St. to serve even more pregnant Hispanic moms in need. This will include increased classes and Crib Club incentives.
Woman's Care Center Milwaukee
Lisa was told by her parents that she needed to have an abortion or move out of the house because "being unmarried and pregnant wasn't something a good Catholic Vietnamese girl did."
After finding St. John Paul II Life Center and the Vitae Clinic and all the support we provide for counseling, material assistance, and other referrals, Lisa delivered her son Khai and is now working and living on her own. Last August, Khai was baptized and Lisa's crisis client advocate from the Center was blessed to attend.
Saint John Paul II Life Center
HOW IT WORKS:
All PRCs must fill out the PRC Application each year to be considered for partnership.
Each PRC is chosen for financial assistance based on application responses and if a Biking for Babies rider or support crew member is available to represent you. PRCs are encouraged to recruit individuals to apply for a B4B rider or support crew member position, or to join with a rider in their area (riders for the 2018 ride will be listed on our website in March 2018).
All final decisions on rider/support crew participation and PRC financial recipients are made by the B4B staff members.
The application process is now closed, and applications are being reviewed. PRCs will be contacted in March about partnership.