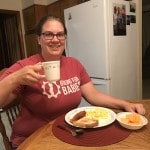 by Mariclare Dempsey, first year support crew, long time supporter of Biking for Babies
---
Every participant in Biking for Babies makes sacrifices during the national ride. But without training in anticipation of those sacrifices, they would feel almost insurmountable.
I watched my sister, Erin, train throughout the entire year for each of the national rides she participated in as a cyclist. She suffered through sore muscles, gave up time with friends and family, and even had to lose sleep on some occasions, so that she could be prepared. She made these small sacrifices throughout the year so that her body, mind, and heart would be capable of making bigger sacrifices in the form of more miles, less sleep, and pain without complaint when the time came.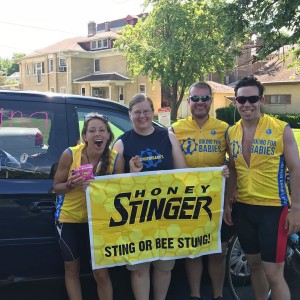 On this year's ride I was able to see first hand the physical and mental exhaustion our riders experienced nearly every day as they cycled to St. Louis. Although I didn't get to follow their training first-hand as I did with my sister, I have no doubt that my brother, Sean, and his teammates, Nick and Stacy, made many sacrifices this past year to strengthen themselves for the national ride. The fruits of their training were manifested in their determination to overcome exhaustion, pain, and mental fatigue through prayer, jokes, and distance goals to break up the length of the day. Each morning they made a choice to get on their bikes, each moment of the day they chose to stay on those bikes, and each night they rested so that their resolve to ride might be just as strong the next day.
While preparing to assist our riders on the support crew this year, my sister and I frequently talked about what we would need to do throughout the week to ensure our riders had enough support and encouragement to get through each day. We discussed roles and responsibilities for laundry, meals, navigation, and all the little details that would come together to create a smooth routine. There was one recurring topic that emerged during every conversation: put the riders first. We couldn't predict that putting their needs above ours would include unlacing their shoes when they were too sore to reach them, going without lunch because we only had enough food for the riders until the next opportunity to shop, or attempting to construct a lean-to out of bed sheets for their next break because there wasn't any shade for miles around. But by conditioning ourselves to put the riders first ahead of time, we became more than willing to do whatever was necessary no matter its negative impact on us.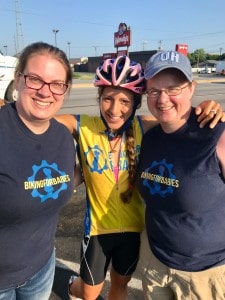 My teammates and I were all blessed to have the opportunity to train before this ride. We often contemplated how, without training, it would have been nearly impossible to complete our journey successfully. Many of the women who seek help from pregnancy resource centers have not had the opportunity to train ahead of time for the sacrifices necessary throughout a pregnancy and it leaves them feeling overwhelmed and unprepared. Where our riders might be able to look ahead at the day's miles and be confident in their abilities to succeed because of what they've already accomplished, these women look ahead at their future struggles but don't have a foundation to offer them assurance in the face of that sacrifice. Pregnancy resource centers, like The Care Center in Dayton, TN, provide that training. They offer parenting classes to equip their client's minds with the tools they need to succeed, they provide physical necessities that allow these women to get through the day, and they offer unending emotional support for those days when the women can't see for themselves how far they've come and how ready they really are for the sacrifice that might come next. We may not be able to completely understand every woman who walks into a pregnancy resource center for help, but we can relate to their needs by continuing to train ourselves to sacrifice for them and their babies.