I have been the training specialist for 4 years and the majority of my conversations with our missionaries revolve around the looming unknown that is the hundreds of miles from [insert city Biking for Babies starts in] to St. Louis. Over the years of interviews and conversation, I keep getting asked the same question: "Can we make the ride shorter and easier?"
The short answer is a flat out "no." But there would be no point to this blog if I didn't give you the long answer because, believe it or not, every – single – mile – matters.
To start off, I want to address the fact that, as a non-profit and organization that supports other non-profits (Pregnancy Resource Centers) spiritually and financially, I fully and completely understand the attraction of doing a short, easy route that could include bikers of all skill levels. And, I believe, there is a place for these short rides and to date several have happened under Biking for Babies' umbrella.
But when I'm talking about Biking for Babies' core mission – changing the culture of life – there is never a doubt in my mind that our missionaries must be tested, stretched, and conditioned by every sweat-drenched mile.
There are three main reason why the miles matter: 1) the "impossible", 2) the sacrificial witness, and 3) holy preparation. In this post I am going to talk about the first point as to why the miles matter. And in next two weeks I will talk about sacrificial witness, and holy preparation. So stay tuned!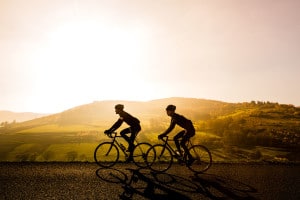 To outline my first defense for the distance of the ride, I want to start with this Bible verse: "For where two or three are gathered together in my name, there am I in the midst of them" // Matthew 18:20. This verse I think is often taken at face value. And, don't get me wrong, at face value this verse is incredibly powerful. But it is also incredibly instructional when you put in context with the entire conversation Jesus is having with his apostles.
This is one of the last lines when Jesus is instructing his disciples on what to do with a "brother who sins." The overarching theme is: sin cannot be reconciled by one's own doing, it requires another – if not an entire community. And we are told that the communal approach to correction is so effective because Christ Himself is present IN THAT COMMUNITY! It is in community that we can address our shortcomings and overcome our individual weaknesses through the power of Christ that exists in each relationship we have on Earth.
So, when a missionary tells me in an interview, "I don't think I can bike that far" or "I can't do that" I always respond with "You're right, you can't. We can." The "impossibility" of biking 600 plus miles in 5 days REQUIRES missionaries to approach a community (Biking for Babies) and say, "I can't do this – but we can." It requires recognition of one's own shortcomings and recognition of the support required to complete the task.
To me, this ideal is lost in our society and I firmly believe it is a driving force behind abortion. We have women scared and feeling helpless. Just about every community shuts them out…then their "task" of raising this child becomes truly hopeless – impossible.
In every painstaking mile, we demonstrate to our society what IS possible when we unite. We demonstrate that our missionaries, as individuals, are not strong enough to complete this journey, but as a group they are capable of 600 miles and so much more. In our miles, we unite our sufferings, our shortcomings, and our perceived hopeless attitude with those who are searching for a community…who are searching for something like the very Pregnancy Resource Centers we support.
In a small, but very real way, we attempt to mirror the actions we hope and pray women in "impossible" situations take, and that is to find community in our Pregnancy Resource Centers and DO THE IMPOSSIBLE.
Maybe you are reading this as a longtime supporter of Biking for Babies, or maybe you are have just stumbled upon or organization and are interested in becoming a missionary. I hope you read this post and recognize something – this message we are trying to send to our country and to the women in these difficult situations REQUIRES missionaries.
Do you feel called to send this message to the world? Do you see an opportunity in Biking for Babies to do something bigger than yourself for His glory? Will you join hands with Biking for Babies supports, alumni, and other missionaries to demonstrate the power of unity in Christ?
I pray you read our application. No, it is not for the faint of heart, but it is for Christians looking to make an impact – it is for missionaries. Know that I pray for your discernment, I believe Biking for Babies missionaries will be an incredibly bright light in the year of 2019, and I believe we will demonstrate what is possible in Christ our Lord – AMEN!