With our applications closed, the start of Biking for Babies 2019 national ride preparation is upon us! Now begins the months of physical training to prepare for the long trip that awaits our missionaries in July. The workouts, long bike rides, going to the gym, and fundraising efforts are about to become a regular part of life for our riders. It is important to be physically ready for the ride so you can finish the journey and keep up with your teammates.
HOWEVER, Biking for Babies is so much more than a week-long bike ride! It is also a spiritual journey, and our riders will need to be spiritually prepared as well. In our organization, training the soul is just as, if not more, important than training the body. Paul acknowledges such in 2nd Corinthians 9:24-26 where it says,
"24 Do you not know that in a race all the runners run, but only one gets the prize? Run in such a way as to get the prize. 25 Everyone who competes in the games goes into strict training. They do it to get a crown that will not last, but we do it to get a crown that will last forever.26 Therefore I do not run like someone running aimlessly; I do not fight like a boxer beating the air.".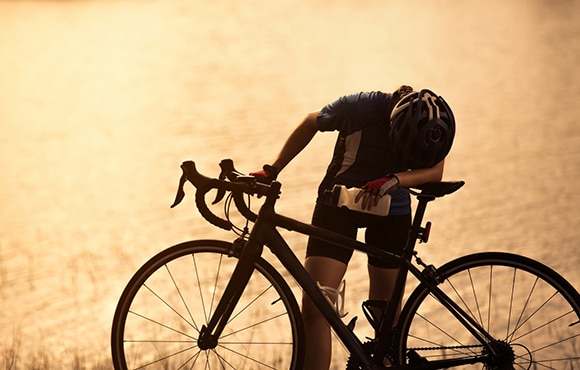 Training the soul and training the body are similar in many ways. Neither are required to join Biking For Babies, but they are highly recommended. Just as you wouldn't try to make this 600-mile pilgrimage if you've never ridden a bike, it is equally as difficult if you haven't been training your soul as well.
The first time you get on the bike after a long time away from riding, you start to feel how much effort it takes to get back into day-long riding shape. It's easy to give up after a few miles because we are tired and weak. If we stay away from physical training long enough, even simple tasks like climbing the stairs or walking uphill make us winded.
By neglecting spiritual training, our soul begins to atrophy. Our weaknesses defeat our will. We struggle to put off temporary pleasures in order to achieve lasting goals. We lose our self-control and react to our short-term impulses. In order to overcome any of our weaknesses, we need to grow in strength. Resistance is required to push ourselves to greater heights.
Every time we go on a ride, lift weights or go out for a run, we use resistance to improve our muscles. By introducing small stresses to our bodies, they improve and grow stronger. You may not notice it right away, but over time, that 20-mile daily bike ride goes from "a complete drag" to "just another walk in the park".
Our spiritual training takes the same form. We all deal with difficulties and hardships in our lives. Their existence isn't what strengthens us, but rather, it is the response or attitude we have towards them. Our reaction towards difficulties in our lives is a great litmus test of where we are at on our spiritual journey. As we encounter more and more, we begin to see the progress and growth of our character as we look back at our old selves.
Consider what Paul writes in Romans 5:3-4 about our spiritual growth through sufferings. It says "Not only so, but we also glory in our sufferings, because we know that suffering produces perseverance; perseverance, character; and character, hope." What a beneficial outcome of suffering, yet it is difficult because of the commitment that is demanded to achieve it.
"Therefore we also, since we are surrounded by so great a cloud of witnesses, let us lay aside every weight, and the sin which so easily ensnares us
,
and let us run with endurance the race that is set before us." —Hebrews 12:1
Both physical and spiritual training require time, effort, consistency and endurance. In the next few months, our riders are going to sacrifice a lot to prepare themselves for the ride. You can't just train once or twice and do our national ride. It takes consistent and long bike rides throughout the weeks and months and pushing oneself to the next level even when it feels like no more can be given.
The soul has to be trained regularly as well. There will be temptations to "let it slide" or take just one day off, but discipline needs to be cultivated to bypass those feelings and do what we know will prepare us for our end goal.
It may be difficult to endure the long training journey especially as you get to June and are just ready for the ride to begin. This is when temptations grow and setbacks arise. It is up to each one of us to continue the fight and not give in to those temptations whether it is spiritually or physically. If we do, we can say with the Apostle Paul, "I have fought the good fight, I have finished the race, I have kept the faith." (2 Timothy 4:7)
So why is it important to train the soul? Biking for Babies isn't just a physical journey; it is also a spiritual journey. It's important to us that our missionaries complete the ride, of course. But it is more important that this journey begins to build a stronger faith inside of all of them.
Physical health is important but temporal. Spiritual health is long-lasting and eternal.
There are very few times in our lives where we get to meet, grow, suffer and achieve such an amazing goal with like-minded Christian individuals. This is one of those rare instances. Take advantage of what lies ahead.
If you've done the ride before and are returning, you know what it takes to get yourself physically ready. Incorporate spiritual training into your regimen this year by reading the Bible or a devotion before you ride. If you're new, contact a veteran rider or previous missionary to learn from them. Take advantage of the spiritual formation meetings we have to push your faith further. This isn't just for the riders either and in two weeks we will have a blog post geared towards our support crew members.
Remember, we all are going through our own spiritual journey every day. Continue to fight the good fight against our spiritual enemies through prayer and constant study of God's Word.