by Katie Wanek, first-year support crew missionary
---
Who knew that you could receive so much from filling water bottles, doing laundry, restocking food, taking pictures/videos, and navigating?  Going into the National Ride, I knew that one of the main roles as a support crew member would be to serve the needs of the riders. However, I quickly learned that the ride would be about much more than water bottle hand-offs, gas station runs, and navigation apps.  While these responsibilities were vital for the bikers being able to complete the ride, they were not what was most important. Ultimately, it was love that fueled myself and each of the other missionaries on the ride. On the national ride, I not only received the joy and satisfaction of serving the riders, but I also received a deeper understanding of what it means to love others as Christ does.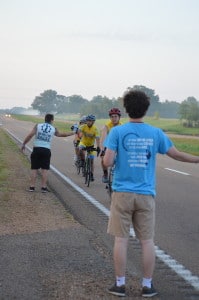 Loving the riders came in the form of doing everything possible to help them get through each day.  It meant staying up into the latest hours of the night to finish their laundry and to come up with a plan for the next day, and waking up well before sunrise to ensure breakfast was ready for them and that water bottles were filled.  It was enduring mild sleep deprivation to get things done because the riders were offering up their physical pain and sufferings on the bikes and needed to be as well-rested as possible for each day. Loving the riders also meant sometimes not eating lunch because we were so busy making sandwiches and making sure they had sunscreen, foam rollers, and everything else they needed, that by the time we finished, it was time to hit the road again and continue on to the destination.  Through serving the riders and offering up very small sacrifices, I learned how to give and not count the cost.
In addition to the riders, I experienced this love from countless others.  It was through the people we met along the way. Whether it was the families who opened up their homes for us, the priests who hosted the nightly events at their parishes, or the random people we encountered at golf courses and gas stations to fill up our water jugs, their acts of kindness made a big difference.  It was also the missionaries on the other routes, the Biking for Babies alumni, and the executive team who embodied Christ's love. Their helpful tips and advice, prayers, reflections, and words of encouragement, before, during, and after the ride meant so much and helped me grasp how God was working through them.  Although we had not all met, we were united together as a group working together toward one cause. Additionally, it was those at my parish, family members, and friends who were supporting me in this mission through donations and prayers that helped me to genuinely feel Christ's love.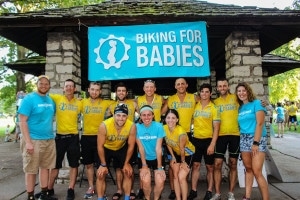 Most of all, it was the women in unplanned or crisis pregnancies and their babies who challenged me to love others better.  Loving other people is to want what is best for them. This exemplified itself throughout the national ride. Even though we would likely never meet these women, it was our desire for them to know the truth.  We wanted them to know that they are stronger than the lies, stronger than the fear, and that they have the power to choose life for their babies, regardless of what our society is telling them about abortion.  I was able to see each of the other missionaries love these women and babies so much that they would make sacrifices, and offer up their time and sufferings to battle the culture of death and work to renew the culture of life.  Each of the missionaries wanted these women to know that they are loved no matter what situation they are in and that there is support for them at the countless life-affirming pregnancy resource centers across the country.
  Certain aspects of Biking for Babies such as fundraising, talking to people about the B4B mission, and going in to the national ride as a support crew member unsure of what exactly I was doing all forced me to step out of my comfort zone and this was somewhat difficult.  However, it was all for the women and babies. While it was not easy, it was worth it. If you want to be able to experience the love of Christ in a deeper way and learn how to put your own needs and desires aside to love others more like Him, then being a Biking for Babies missionary is for you!  If we really want to love the women who are in crisis pregnancies, then we have to get uncomfortable and offer it up.
"There is no place for selfishness and no place for fear!  Do not be afraid, then, when love makes demands. Do not be afraid when love requires sacrifice."- St. John Paul II
---