by Connor Szurgot, first-year support crew missionary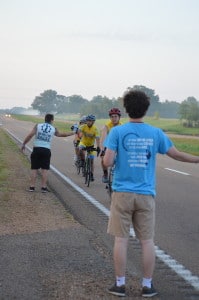 Looking back on my first year with Biking for Babies, I have to say that I went in not really knowing what to expect. One of the most unexpected things that I found on the National Ride, and also one of the most welcome, was the community that formed between the Southern Route missionaries. When we all showed up in Tylertown, MS at St. Paul the Apostle Church, everyone knew at most one other person on the route. Yet, by the end we had plenty of comradery and inside jokes to spare. One example of this is the many birthdays I had over ride. (Don't worry about the fact that my birthday is in November and the National Ride is in July that will be explained momentarily.)
As we were waiting for the first fundraising event to start, it was discovered by the team that I was the only one on the route that was under 21 and, as such, I was the 'baby' of the group. This happily became one of our first inside jokes, with me finding high chairs to bring to the table at a rest stop and talk about how I couldn't sign the thank you card without a parent signature as well. At some point, it was decided that every day was my birthday and that with every day I got younger. We even had a birthday party in which I was given a plastic bottle for my birthday present!
That community was something missing from my summer both before and after the National Ride. It seemed to come about so naturally even for a group as diverse as ours. We had missionaries that were going into their fourth year and missionaries going into their first. I, as the baby, was only 20, and another missionary was 38. Some of us were in college, and some were working. Some were single, and others were on the verge of getting married.
Yet, despite the differences in our states of life and background, we molded together into one community.
I don't remember how many water bottle drops we did or what all the scenery was like on the many miles between Tylertown, MS and St. Louis, MO, but when I think about Biking for Babies, I remember the community and the laughs we shared.
Our Lord tells us that, "When a woman is in labor, she is in anguish because her hour has arrived; but when she has given birth to a child, she no longer remembers the pain because of her joy that a child has been born into the world." (John 16:21 NABRE) For women in crisis pregnancies, there is much labor for them to endure before their hour comes and even after it has past. Yet, we are convicted that life is a gift from God that must be fought for and it is a gift that is not without its joys. When a women looks back on the carrying, nurturing, and rearing of her child, there is no doubt that there will be many hardships to see, but many joys as well.
We are convicted as well that joy does not end or even find its perfection in this life. We know, that no matter how dark the night or bitter the trial, "at dawn there is rejoicing." (Psalms 30:6 NABRE) Eternal and perfect happiness are offered to both mother and child where they shall be able to rest from their long labors. We as Biking for Babies missionaries, after experiencing the National Ride, are able to be, in a unique way, messengers of the joy the follows trial. We are able to be living witnesses and stand as proof that there is rest for those who labor and that while there is "a time to weep" there is also "a time to laugh." (Ecclesiastes 3:4 NABRE)
---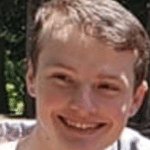 My name is Connor Szurgot and I am a Catholic ready to serve Christ and His Church through spreading the pro-life message. I currently study computer science at North Carolina State University and I am very involved with the Catholic Campus Ministry there. The Lord has given me many blessings throughout my life, not the least of them life itself. I want all people to have the opportunity to experience this gift and come to know and love the God that gave it to them.