Each year Biking for Babies recruits eager missionaries looking for an opportunity to better their communities and draw closer to Christ. We present at churches, talk to close friends, and even advertise at large conferences. Thinking about those events, I want to ask you a quick question:
Which missionary role, riders or support crew, do you think is "easier" to recruit?
Remember, one is presented with the grueling opportunity of biking 600+ miles in 6 days in the dead of summer. And the other is asked to protect, travel alongside, take videos, do laundry, and prepare meals for those riders.
Obviously, the answer is…riders!!
Sadly, to me it IS obvious, and I think it starts with the distinct mission of support crew members on the ride that is extremely unappealing to our culture today. To start, let us look to the Bible at maybe one of the most obscure characters that you may hear about when you hear the Passion of our Lord on Good Friday:
"When He arrived at the place (Mount of Olives) He said to them, 'Pray that you may not undergo the test.' After withdrawing about a stone's throw from them and kneeling, He prayed, saying, 'Father, if You are willing, take this cup away from me; still, not my will but Yours be done.' And to strengthen Him an angel from heaven appeared to Him. He was in such agony and He prayed so fervently that His sweat become like drops of blood falling on the ground." Luke 22:39-44
I don't blame you if the angel in the garden does not stand out, and if you did not even catch that an angel was there please read again…and think about what is happening in this scene. For us to be truly struck by this encounter, we have to remember The Letter to the Philippians: "Who though He was in the form of God, did not count equality with God a thing to be grasped, but emptied himself, taking the form of a servant, being made in human likeness." Philippians 2:6-7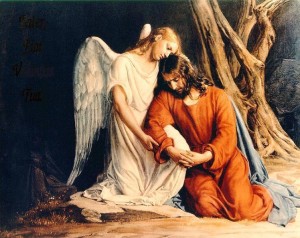 In the Garden of Gethsemane, Christ was truly in anguish. However, we cannot forget that God completely emptied Himself – He does not have to suffer, He chooses to suffer for us. Why? Yes, in atonement for our sins and to open the gates of Heaven. Do not forget though, that Christ also suffers for us to show us how we here on Earth should suffer. And that is where this unnamed angel struck my heart while I was praying.
Imagine this angel being asked to comfort and strengthen the King of Kings. In this time of the Passion, what could this angel possibly offer our Lord? Simple, communion. This angel could not take the cross from Christ, it could not hide Christ from the mob waiting for Him, and it could not heal His impending wounds. I imagine this angel offered words of encouragement and a "shoulder" to cry on. I also imagine this angel cried with Christ. That, my brothers and sisters, was this angel's mission: to be present. In Christ's suffering at the Garden, we see two crucial actions we must do when we are suffering: 1) ask to be in the presence of others who love you and 2) pray to our Heavenly Father.
Our support crew members are our road angels. It is not a glorious job, it is not an easy job, and it is not as active as a job as our riders. Yes, they cook, clean, drive, etc. but when our culture sees their "duties" compared to our riders it seems dwarfed. However, I would argue the opposite. The reason riders are easier to recruit is because we live in a culture of "doers." And I do not mean that to have a negative connotation, because we do need people willing to sacrifice for the sake of change like our riders. However, I do mean to say that our culture is ferociously teaching us to not go out of our way to sit with the suffering for the sake of just being present. In fact, I would argue our culture would love for everyone to suffer in isolation so that I don't have to worry about your suffering, you don't have to worry about my suffering, and you don't have to worry about your neighbor's suffering. "Live your own life" or "It is what it is" are two common phrases that epitomize this culture – and that is why support crew are so few and THAT is why their job is so crucial to invigorating the culture of life.
The most important thing our support crew members do is they are present. When our riders are suffering, they are right there physically, emotionally, and spiritually. Being a support crew member is exhausting on so many levels because they take on the suffering of our riders without being able to take their suffering away. That is their mission, to be present and to cultivate communion on the ride. Tell me a more dire mission than that right now in the pro-life movement. Imagine a world where during every hardship a woman ever had to go through, they had their own "angel" to cry with, to talk with, to process emotions with; whether that be a difficult pregnancy, an unplanned pregnancy, a miscarriage, or a still birth. This person may not be able to actively change or do anything for her, but just that person's presence and communion would change that woman's world, and it would surely change our culture. Our support crew missionaries try to exemplify this mission in their pilgrimage on the national ride. They unite their mission to cultivate communion with that same mission that our pregnancy resource centers embark on every day. My dear supporters of Biking for Babies, please pray for our support crew because they have a very difficult mission to accomplish. Pray that they allow themselves to simply be present on the ride and pray that they can unite this mission with our pregnancy resource centers. And if you get a chance, be that angel offering communion for someone else. Just being present in your neighbor's suffering is life-changing.
Acknowledgement
Fr. Tom Pomeroy of Holy Family Parish in Brillion, WI
The Priests at "Catholic Stuff You Should Know" especially Fr. Nathan for pointing out the craziness that is the phrase: "It is what it is."