By Kevyn Wiskirchen, Rider, 2016 National Ride
Last month I had the pleasure of visiting Wyandotte Pregnancy Clinic (WPC) in person for the first time during their Open House. At this Open House, donors and supporters toured the building and learned about the on-going programs and services while they visited with staff. It was amazing to finally meet the Director, Mary Gliserman, and clinic staffers with whom I partnered as a Biking for Babies rider on the 2016 national ride.
Not only was this my first time at WPC, but it was also my first time being inside a pregnancy resource center. I have to admit, I expected a plain looking building with an all-white interior like a hospital, sort of a "look-but-don't-touch" atmosphere you get when you visit a doctor's office. Wyandotte is nothing of the sort. Their clinic was once a rectory (a home for priests at the local Catholic Church with which the center shares a parking lot), and because of this the whole building harbors that same home-y feeling. Where I expected a typical "waiting room" or "exam room" I found a center that feels like a cheerful and inviting home.
I got to walk through the entire clinic, just like a new client would, and was shown each of the rooms, unique in purpose. From informal and comfortable sitting rooms to private consultation rooms that allow one-on-one counseling and classes all the way to the ultrasound room, rooms full to the ceiling of baby products and personal-care items and even a play room for clients who bring their children with them – it was apparent to me just how much WPC offers.
Wyandotte Pregnancy Clinic serves the community within Wyandotte County, KS, which is the poorest county in the entire state. Because of this, affordable healthcare is uncommon, as are the necessary supplies to care for a newborn. Many women this community find themselves unprepared to start or expand their families, leading to a high occurrence of "crisis" pregnancies, but the support provided by WPC eases some of the challenges these clients face.
In addition to free pregnancy tests and ultrasounds, WPC provides many informational programs to expecting parents and those with young children that teach a variety of practical skills to allow them to be successful. By taking part in these programs, clients earn points they can use to redeem for diapers, clothing, car seats, breast pumps, strollers, cribs and anything else you can think of to support a new parent. These programs have also initiated friendships between clients who in turn support each other, and reach out to friends and family in their own community who are in similar life situations and in great need of support.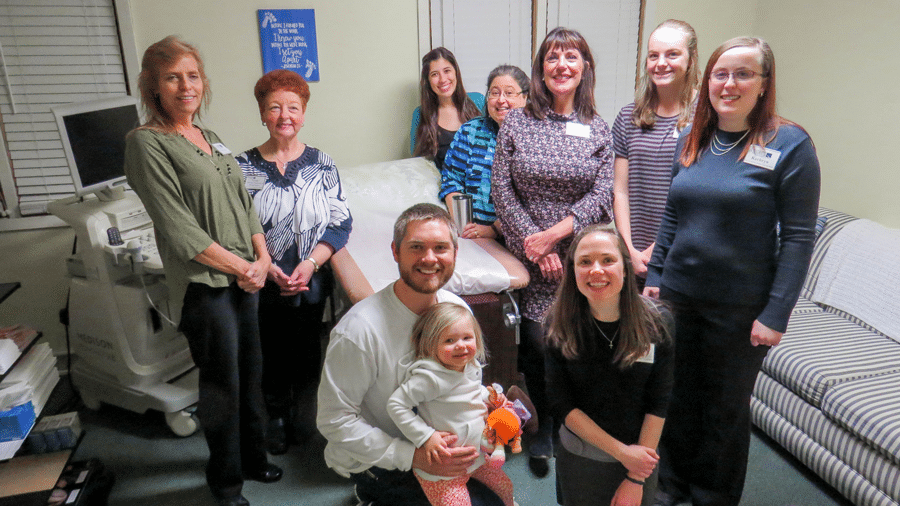 The work that Wyandotte, and many other PRCs do, is challenging in several ways. Wyandotte is run entirely on donations and community support, so their budget is in many ways limited, while their work is divided among a small number of staff members. When I asked the Director what her biggest challenge is, she expressed her concern for her staff, many of whom work with abortion-minded clients daily. This type of work, though often fulfilling, can take an emotional toll after a while. Moving forward, Mary hopes to expand her staff and provide more spiritual support for them, possibly by hiring another counselor to take on the increase of clients they've seen in the past year. She hopes additional staff can help WPC continue to serve their growing client base.
True to the mission of Biking for Babies, WPC is exploring new ways to increase awareness of their pregnancy support programs for expecting mothers. My wife and I are so proud to be partnered with Wyandotte Pregnancy Clinic, and to support other PRCs like it, who share the collective vision that one day, no expecting mother will have to wonder how they will be able to manage, but instead will turn confidently to their local pregnancy resource center who is standing by ready to provide them with the emotional, material and spiritual help they need.