---
RENEWING THE CULTURE OF LIFE IN AMERICA
ONE PEDAL STROKE AT A TIME.
We're committed to supporting centers and programs that help pregnant women in need.
That's why we ride, why not join us?
---
IMPORTANT DATES for 2018:
| | |
| --- | --- |
| JANUARY 1, 2018 | Pregnancy Resource Center Partnership Applications due |
| FEBRUARY 28, 2018 | Rider and Support Crew Applications due |
| JULY 8-15, 2018 | Biking for Babies 2018 National Ride |
| JULY 14, 2018 | Annual "Celebration of Life" in St. Louis, Missouri |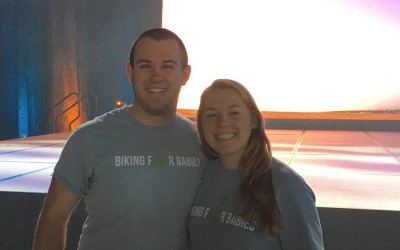 At that point in time a girl from the group asked this question to her friends: How can we as Catholics preach a pro-life stance, but then we don't actually do anything to facilitate these women to be pro-life? I asked God in my head, "You're making this my job, aren't you?" It was almost sarcastic. I then looked down at my phone… And I watched it die in my hand…
Our mission is to facilitate the organization, promotion, and continuation of bicycling events at the local, regional, and national level in order to enhance the awareness of and resources available to America's crisis pregnancy centers.
Every summer, our missionaries come together to pedal over 2,500 collective miles to raise awareness and support for their pregnancy resource centers partners all across the country.
We want to see a culture of life take root, will you join us?
This year we've seen over 122 of our clients – who came in thinking we were an abortion clinic because of our name, Her Choice, and our location in Downtown Birmingham – that were abortion minded, and choose Life. Our Ultrasound machine and our outstanding counselors have done an amazing work. We are so grateful for your support in the most exciting ministry on the planet and difference for all eternity.