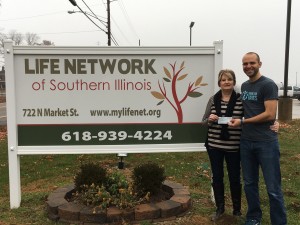 Mike Schaefer, one of Biking for Babies co-founders, supported Life Network of Southern Illinois for the 2016 ride. He recently visited the center to deliver his donation to them in person! He sent us this story from his visit:
"I visited Debbie a few weeks ago at Life Network's main center in Waterloo, Illinois. She wasted no time in expressing her gratitude and joy at the memory of Biking for Babies' Celebration of Life event in Memphis in July.
We snapped a picture of my presenting Biking for Babies' gift to her and chatted about stories from the ride, life right now for me, prayer petitions for the center, and, of course, the weather.
I couldn't help but think of how important her warmth and devotion to life has made such a tremendous impact on the communities in Southern Illinois and I and Biking for Babies is so honored that she and her center have been a gracious part of our ride.
The most important need for her center right now are prayers and attention for the continued success in the resistance to Senate Bill 1564. Governor Rauner signed it in July."
Please continue lifting Life Network and all of our Pregnancy Resource Center partners up in prayer! If you know a PRC that could benefit from partnering with us for the 2017 ride, please consider inviting them to apply for a partnership. If you have  PRC in mind that YOU'D like to support this year on the bike or on the road as support crew – consider putting your application in today!