How are you? Our lives have been flipped upside down, thanks to the COVID-19 pandemic. The last 2 months have been anything but planned. And although this may seem like the new "normal," we do not really know what tomorrow looks like.
Jesus, I trust in you.
If you're like me, you've been quarantined at home for 9 weeks. And the possibility of life going back to "normal" seems close. But we know it won't ever be the same as it was.
A quick aside: I'm not talking about the pros and cons of Safer at Home or the effectiveness or reasoning behind current guidelines. I'm talking about being where you are. The whole "grow where you are planted" thing.
As Safer at Home restrictions are slowly being lifted across the country, many people wonder what will happen as things open. Will I get sick? Will my family be alright?
Jesus, I trust in you.
What are you feeling? Are you wondering if you will always have to wear a mask at the grocery store? Or when your hands will recover from the dryness due to being washed 1,000 times a day? Or when that event you were so looking forward to can happen? Are you afraid of what tomorrow brings?
Feel those feelings; they are valid.
One revelation for me in all of this is that I carry a lot of fear, which tends to prevent me from making a decision. This fear comes from my reliance on myself and my own abilities to overcome hurdles. This has brought me to reflect on if I truly believe that "all things are possible for he who has faith" (Mark 9:23) or do I believe that I am the one in control who can (or cannot) do it all?
To truly trust, it is necessary to recognize the anxiety, frustration or whatever you're feeling. Once you accept this feeling, you can allow yourself to process it and move on. But it takes an active realization and acceptance of your feelings, rather than ignoring them, to hand them over to God.
So really, what are you feeling?
It is times like these, times of crisis, where we must decide if our response will be one that brings us closer to God, or one that puts a blockage of pride in between us.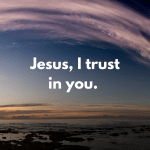 How can you reframe the narrative in your head? Remember, you are called to the virtues of perseverance and trust. God asks you to trust Him, do you trust His plan for you? What can you do in this difficult time to refocus your internal monologue on the God of the universe?
He will work all things for good for those who love him (Romans 8:28).
Jesus, help us trust in you.