A reflection on our annual "Celebration of Life" by our Executive Team. The Celebration of Life is a gathering to welcome our missionaries at the end of their National Ride as well as share our mission to family, friends, and supporters.
KELSEY KUSKE, DIRECTOR OF DEVELOPMENT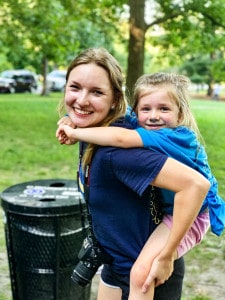 What a year it has been for Biking for Babies thus far. There have been countless ups and downs, whether that be a record-breaking 21 flat tires on one of our routes this year, to finally getting to see it all come together at the Celebration of Life. I had so much fun planning this year's event and getting to work with some amazing people like our musician, Phill Kosta. 
This year's event was bigger than ever before, bringing approximately 130 people including missionaries, their families, community members, and more. People traveled in from all over to celebrate the end of our 10th national ride. We had great food, fabulous music, encouraging speakers, and the best company. We were truly blessed to be surrounded by love, hope, and a tenacity for this amazing cause. 
While the Celebration of Life is about welcoming and congratulating the missionaries, it is about so much more than that. It is about growing a community. You know how they say it takes a village to raise children? Well, it takes a village to truly "renew the culture of life!" It would have been easy for me to let the day fly by, to let all those little things that didn't go exactly as I had hoped to frustrate me. But not here, not with this group of people celebrating LIFE! 
My favorite part of the event this year was not the food, venue, or programs that I spent way too much time trying to perfect. My favorite and most memorable part was standing back, observing the 130 people from infant to grandparent, and realizing just how strong, resilient, and encouraging our Biking for Babies community is. 
So cheers to our community! Cheers to our bikers and support crew, our missionaries' amazing families, the St. Louis community, CJ Krahn (speaker), Phill Kosta (musician), Picnic People (caterer), and every single person who has helped make this community the best community! 
JONATHAN SIMPSON, DIRECTOR OF PREGNANCY RESOURCE CENTER RELATIONS AND MISSIONARY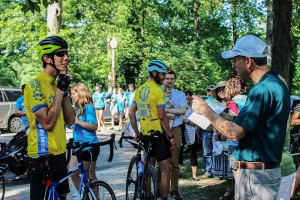 This year coming into the Celebration of Life was like other years, but much smoother.  There were no storms chasing us, forcing the team I was with to take shelter in the doorway of a church. This year we got there on time, and I actually got to see the inside of the cathedral basilica!  It really is an amazing church, and I would highly suggest it; it was worth the three year wait. Coming into St Louis is a twofold thought. Exciting as we have made it to the end, and it will be the end of everything hurting.  This is also the time that we are complete with the teams we have just rode with; and they will never be the same. After suffering much together, it is always hard to leave them.
And then there's the Celebration of Life itself.  It is the last suffering and excitement of the ride.  While we get to see family, friends, and the other routes, it's really hard to talk to everyone when you are that tired and hungry!  But it is the last organized action we do on the ride to bring others into the mission, and it is great to see the strength of will of the missionaries carrying the mission.  Especially when the grass looks soft enough to take a nap! For the babies!
KEVIN BIESE, DIRECTOR OF HEALTH AND WELLNESS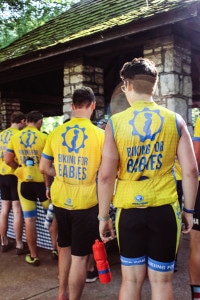 8 years of cycling for Biking for Babies has put me in the position to be the Director of Health and Wellness where my main goal is to prepare the missionaries for the physical, mental, and spiritual task of completing the Biking for Babies National Ride. You can imagine the emotion of watching 30+ missionaries crossing the finish line in St. Louis. I have been in community with this group of young adults since March 1st, and through all the training and health education about the ride, I sent them one last inspiring quote based off of 1 Corinthians 13:2 "If I have all the faith in the world and ask a mountain to jump and it does, but do not love; I am nothing. If I bike 1000 miles to help those less fortunate than me, but do not love; I am nothing." 
My observation was that, yes, love was most definitely present during the ride and the Celebration of Life. Parents, grandparents, friends, and other family members all served, admired, and affirmed our missionaries with nothing less than love. And I watched this all unfold I prayed that it wouldn't end here…
Though the Resurrection of Christ is most definitely the pinnacle of salvation history, it is no where near the end. He is the Living God and God of the living (Mark 12:27; Matthew 16:16); therefore, He is continually present and shaping our lives today, 2000+ years later…and will continue to do so until the end of time. If the Celebration of Life is a metaphorical resurrection, as these young adults will go back to their "normal lives" but completely changed through their experience with Biking for Babies, then we too must not forget that love does NOT stop at the Celebration of Life. 
To my missionaries and to all those physically, and spiritually, present at the Celebration of Life: bring love back to your communities. You have now sacrificed (loved) for your PRCs and the unborn, but the true transformation of a Culture of Life starts in YOUR community. That my friends, is what a 600/800+ mile bike ride has prepared you for, that you may see through a different lens of the needs of those around you and that you may now have the heart, strength, and – frankly – the audacity to be vulnerable and sacrificial to the least in your community.
NIKKI BIESE, EXECUTIVE DIRECTOR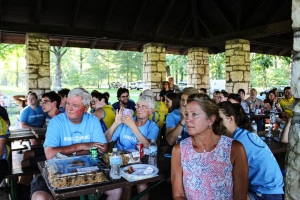 As we gathered at Tower Grove park for the end of another National Ride, the energy was high. It was wonderful to see so many people gathered to welcome our missionaries in after their long week of biking. In our tenth season, we took a minute to reflect on where we have been, and it was very apparent that Biking for Babies has only gotten to this point because of our support. Donors, prayer warriors, parents, volunteers, family, friends, sponsors, reporters, and those we have met along the way have all been imperative to the mission. This community is what Biking for Babies aims to build and is what is going to bring about a culture that respects life.
In looking ahead, Biking for Babies envisions a society that embraces the immeasurable worth of every human life, from conception to natural death. This vision remains strong as we near the end of our 2019 season. In the next year, you will see Biking for Babies continue to solidify our impact on the pro-life movement. We are excited to continue to mobilize a pro-life generation and recruit more young adults than ever before! Our team plans to improve our Center-to-Center Education Program as well as grow our local opportunities to introduce pregnancy resource centers to all communities. Biking for Babies has exciting plans for the next year, and we are glad you are here to experience it with us!
For the glory of our great God,
Nikki
---
Visit our Facebook page to see pictures from the event, and visit www.bikingforbabies.com/give to support our mission of Rebuilding a Culture of Life, one pedal stroke and one pregnancy resource center at a time!
(Pictures by Alison Kuske)