We decided it would be great to group all of the route leaders' bios into one place, so read on to learn who is leading our missionaries on the road this year!
---
-Northern Route: Wisconsin to Missouri-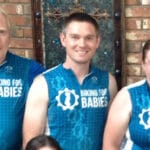 Kevyn Wiskirchen, rider from Missouri: "I am pumped to join the 2018 national ride as a Biking for Babies missionary! I am a Biologist for the Missouri Department of Conservation and an outdoor enthusiast. You won't have to guess which rider I am because I'll be the one craning my neck and trying to get a better look at a bird or other critter as we whiz by. This is my second year riding with Biking for Babies and I am excited to give wholly of myself to further the Pro-Life mission. I know that God has a plan for us throughout the coming months that we can't fully predict and I can't wait to see that plan unfold."
Dirk Meyer, rider from Minnesota: "Hello, my name is Dirk Meyer and I grew up in a small town called Rockford about 30 miles west of Minneapolis located in the state of Minnesota. Currently, I work as a project engineer for a railroad bridge construction company called E80 Plus Constructors out in the town of DeForest, WI. This year, I'll be leading the riders on the Western route going from Pueblo, CO to St. Louis, MO. I joined Biking for Babies last year because God called me to not only say I supported giving life to all unborn children, but to live it out. As a member of Biking for Babies, my goal is to share in the exciting mission of building up a culture of life and to give pregnant mothers all the resources they need to support their children."
---
 -Western Route: Colorado to Missouri-
Andrew Luetkenhaus, rider from Missouri: "My name is Andrew Luetkenhaus and I am riding from the Denver area to St. Louis on my bike. I am riding to spread a culture of life and to support pregnancy resource centers. I hope to raise awareness of the assistance and love that awaits all mothers in need of help. My hope is that we can show mothers literally how far people will go for them and that they are not alone in their struggle. I am riding for the voiceless babies, the fearful mothers and to glorify God."
Ryan Arnoldy,rider from : "My name is Ryan Arnoldy, I am in the process of finishing up my third year at California University of Pennsylvania where I am studying Mechatronic Engineering. I first heard about Biking for Babies at the SEEK conference in San Antonio TX where I fell in love with the idea of combining my love for physical fitness with my passion for the pro-life movement. I am riding because I feel that the unborn deserve to have a voice, and that God has called upon me to be that voice in a society where abortion has been normalized to the point that it has been portrayed as an acceptable option by the mainstream media sources. My goal to raise awareness for pregnancy resource centers as well as the pro-life movement using the gifts and talents that God has given me along the way."
---
-Southern Route: Mississippi to Missouri-
Griffin Wacker, support crew from Alabama: "I'm on support crew because I want to take action for the pro-life cause, rather than just be a voice. Actions speak louder than words after all. I want to spread the joy that a culture of life brings throughout my community and let it grow outwards from there. I'm doing it for all the unborn and their mothers, who are in a crisis pregnancy. We're all God's children, worthy of receiving His love; my goal is to help those in a crisis pregnancy encounter that love."
Kathryn Peterson, rider from Tennessee: "Hello everyone! My name is Kathryn Peterson and I am a second-year rider this year! I am a student studying Civil Engineering at the University of Alabama (Roll Tide). I heard about Biking for Babies at SEEK 2017, and was immediately amazed at the idea of redemptive suffering for the babies. As a runner, I saw this as an opportunity to push myself like I never have before for a cause that is much bigger than me.
I am riding because the lives of my brothers and sisters are at stake. Life is a gift, and there should not be an option to take it from anyone. I want to prove to others that the struggle might be real, but that they are surely not alone! The PRCs we support are on mission to care for women and assist in the healthy birth of their children. I'm excited to be a part of this journey to fostering life and spreading God's love!"
---
-Eastern Route: Ohio to Missouri-
Erin Dempsey, support crew from Illinois: "I am from Lake Zurich, Illinois. I work as a 3D artist constructing models of apartment floor plans for marketing, I also volunteer as a religious education teacher at several local churches. The Pro-Life group at my church does a great job of helping me coordinate service hour opportunities for my students. This will be my second year as a part of the Biking for Babies team. I am looking forward to rejoining my teammates and meeting new friends. Biking for Babies is a great opportunity to grow physically and spiritually while making a difference in this great cause."
Stacy Hauge, rider from Illinois: My name is Stacy and I'm a native Chicagoan, born and raised on the Southside in a nice neighborhood called Beverly. I'm the youngest of 4 with 2 older brothers and 1 older sister. I love my family and am happy to see it grow, as now I have a sister-in-law, Jenny who has 4, almost 5 beautiful children as well as a new brother in law, Allen and as of July 8th I'll have another sister-in-law, Rebecca!
I've very grateful for my family and for all their love and support over the years, especially during the difficult times in my life, in which they would always encourage me to be strong and courageous, to have hope, and to never loose faith in God's love. This gratitude, is really the reason for why I've be involved in Biking for Babies for the past 8 years. I couldn't imagine having to go through something like a pregnancy (planned or unplanned) without the support, love and encouragement of my family, so I love knowing there are such amazing Women's Centers out there that provide this support and love to the women who want and need it the most. No one should feel like their best option is to the end the life of their child. Biking for babies fights to ensure that every women truly knows her options and that she is not alone. And that life is awesome!
I also love B4B because I've been an athlete my whole life; being a competitive triathlete, collegiate XC runner and now a personal trainer, I've learned how pushing yourself in the physical sphere encourages growth in other aspects of your life as well! The ride always gives me a greater understanding of life and love. The long ride is a way to challenge ourselves and to realize how dependent we are on the love and support of others in times of struggle. 
Thank you so much for supporting our efforts to spread a culture of LIFE!