Ominous clouds gathered in the St. Louis skyline, and outside of the Cathedral Basilica of St. Louis the teams of Biking for Babies waited. Most have biked over 500 miles with only 2 miles left to complete their journey – one filled with every emotion imaginable. The culmination of this trip was supposed to occur in Tower Grove Park, on a sunny day, in the arms of loved ones and the smell of pizza in the air.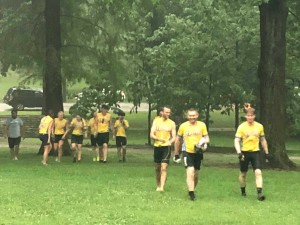 But as the first rain drops were felt, the call came, and bikers reluctantly loaded the support crew vehicles. The vision of biking into the parks with cheers and cameras was shattered – an image and anticipation that can fuel some of the toughest miles of the ride.  This wasn't the plan. Meanwhile, families moved tables, food, and decorations underneath a small pavilion. They were not leaving, they were not abandoning the missionaries. And as the drops turned to a sprinkle, and then a downpour, families huddled closer in the pavilion as the lightning and thunder surrounded them. This wasn't the plan.
Finally, the bikers arrived in the vans and trucks. Only 50 feet away, the pavilion was veiled in sheets of rain. There was no magical greeting, it was not safe to leave the car, and we prayed for the safety of our supporters under the pavilion. It was not the ending you imagine as a missionary or as a supporter. The plans were shattered, and people were confused and most likely a little annoyed.  Yep you guessed it: this was definitely not the plan.
But, through it all, missionaries and families, stoically road the storm out. The rain lightened, missionaries excitedly ran from the cars, and families embraced and cheered!
With rain still in the forecast, all hands-on-deck were needed as we scrambled to find an indoor site for our celebration. It took everyone from the executive team, missionaries, supportive family, and even the community around St. Louis to help us find and move to St. Margaret's Parish just down the road. Wet and tired, cold and muddy, crying and laughing, we celebrated. And although it was not our plan, it was good.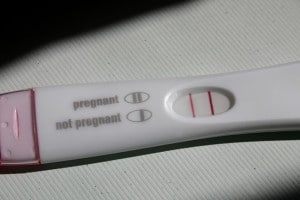 I have arrived at the finish line of Biking for Babies' annual ride 6 times prior to this year, and I can honestly say I have yet to see an ending more poetic for our cause. As a parent, I can tell you, you will never be ready to be a parent. I was 22 years old, in college, newly married, living in a 500 square foot apartment, and with very little money to my name when my wife and I saw 2 pink lines. Unplanned, scared, and in a storm of emotions. This wasn't the plan…And as the clouds of doubt swirled around us, our family, friends, parish, and classmates rolled up their sleeves, strapped on their boats and walked out into the storm with us. And, just like the Celebration of Life, family and friends joined our hands and sang and danced at the  uncertainty of the life that had begun in my wife's womb.
So here we were, Biking for Babies, existing exactly where we need to be – in the storm. Our society, both "pro-life" and "pro-choice" have closed the shutters and doors as the storm that is abortion traps women and their families outside. You can argue about politics, you can watch the TV and grumble, but as for Pregnancy Resource Centers, Biking for Babies, and our supporters, we will trudge in the rain and live in the storm. With outstretched hands and open hearts we will reach scared, scarred, and helpless women and their families. We will provide for them financially, spiritually, and emotionally. Our brothers and sisters in Christ are hurting and mourning and in the storm is the only way to change that.
Will you remain in the storm with us as we support these centers? We are trying to raise $30,000 more for pregnancy resource centers who have planted their feet on the front line of this storm against life. Help us to help them. Every gift is substantial and meaningful, and we need gifts of all sizes, from small to very large. If you are able to help us today, please visit www.bikingforbabies.com/give. God bless you, and may we ride out this storm together, knowing that one day, the rains will lighten and women will know they can choose life!