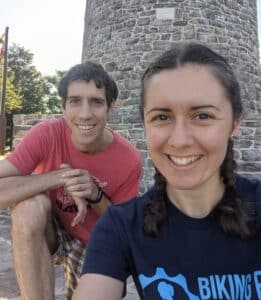 Andrew and Anna are a married couple, biking together as missionaries on the New York Route.
I'm Andrew Martin from Arlington, Virginia. After taking a year off to get married, this will be my fifth time riding with Biking for Babies. Seeing the opportunity for a new route from New York to DC, it was an easy decision to sign up again. In a post-Roe world, it is especially important to show the charitable, life-affirming side of the pro-life movement through the work of pregnancy resource centers, and I'm happy to help bring the support of Biking for Babies for these organizations to a new part of the country.
---
I'm Anna Franciosa, and I'm a second-year rider with Biking for Babies. I live in Arlington, VA, and by day, I'm a risk and due diligence manager. Outside of work, I'm an avid baker which balances out by my running and cycling hobbies. I'm always on the search for a new recipe to test out, so please share any favorites with me.
One of the first questions I get when I tell people I'll be biking from Albany to Washington, DC is "why would you do that?" Well first, I'm sure it will be a wonderful adventure with old and new friends filled with many memories; but more importantly, to raise awareness for pregnancy resource centers (PRCs). I'm blessed to have a supportive network of family and friends, but not everyone has that. PRCs provide material support in the form of medical care and supplies, but also emotional support which is just as needed for those facing the situation of an unplanned pregnancy. I think PRCs are a vital piece of our communities that help those who want to improve their lives through parenting classes, career support, and much more. Biking for Babies is all about community and spreading joy, and those are two things that will carry me through the miles.
Fundraising Progress
Joint Goal: $6,500 | Raised: $6,647 | Progress: 102% | Updated: 10/9/2023
Check Out More NY Route Missionaries