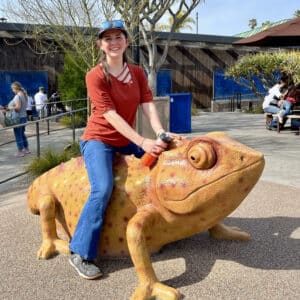 Hello! I'm Sophia Mittman, a 22 year-old materials scientist living in Boston, and am a 3rd year Missionary / 2nd year Route Leader / 1st year Support Crew member on the Ohio Route!
Over the past three years, Biking for Babies has shown me the undeniable beauty, truth, and goodness of what it means actually to be pro-life, and it has equipped me to share that life-changing reality with others. At the same time, Biking for Babies is one of the hardest things I've done in my life. Every year I've hesitated doing it again. But, when I think about it, in the same year I was born, over 1.25 million people lost their lives to abortion. Why not me? Biking for Babies gives me the chance to step WAY out of my comfort zone to do hard things that encourage and enable others to embrace and celebrate life, just as my life was freely given to me.
And so I continue another year of the B4B adventure to advocate for Pregnancy Resource Centers to help mothers, their children, and their families facing difficult pregnancies. I hope you'll join me!
"I am not afraid! I was born to do this." -St. Joan of Arc
Fundraising Progress
Goal: $10,000 | Raised: $10,264 | Progress: 103% | Updated: 09/16/2022
Check Out More OH Route Missionaries