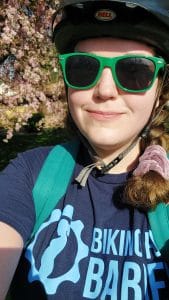 Hello! My name is Nathalie and I'm a second year missionary with Biking for Babies.
When I was 18 years old, I was told the circumstances surrounding my adoption for the first time. My biological mother was pregnant with twins, in an unplanned pregnancy, and was diagnosed with cervical cancer. The doctors encouraged her to abort us, but she chose life and decided to keep us in her womb for as long as she could. After hearing that, my prolife mission had focus: to be a witness to her courage and to share her story.
Biking for Babies allows me to do that and so much more. In helping pregnancy resource centers financially, I'm able to help women get the care that they need to make the same courageous choice that my biological mother did. In visiting the resource centers and sharing their stories, we're able to show people that there are women choosing life every day.
The other important aspect of being a Biking for Babies missionary is the prayer and sacrifice that goes into everything we do. In order to fight the Culture of Death that plagues our society, prayer and sacrifice is crucial to what we are trying to achieve.
Fundraising Progress
Goal: $3,000 | Raised: $1,340 | Progress: 45% | Updated: 09/16/2022
Check Out More KS Route Missionaries