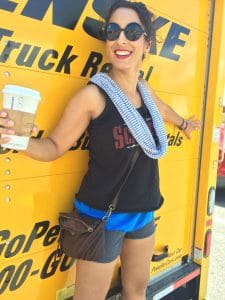 Salut! Je m'appelle Marianne! I am a first year missionary with the support crew on the DC route. I originally hail from Cleveland, OH where I had a love of nature, small woodland animals, music, and – above all – staring out at Lake Erie. One of my first "jobs" was to take care of great horned owls, foxes, woodchucks, and even a bald eagle at a nature center a few miles from shore. I grew up in a science-inspired home where my parents instilled in me a love of learning and wonder about the world around me. Naturally curious, I dove into books and found some of my favorite stories revolved around freedom fighters like the WWII Danish resistance movement, Jean Valjean from Les Miserables, Jonas from The Giver, and the Newsies. Okay, Newsies – not a book – but a mighty fine song and dance number.
My worldview grew when my love for "Nature's God" eclipsed my love of nature itself. Fable and storytelling just shadows of the Gospel. Freedom fighters, echoes of Christ's mission to "bring liberty to captives and proclaim a year of the Lord's favor". In the same breath, all I loved found it's place. As JRR Tolkien puts it, God is "There you will find romance, glory, honour, fidelity, and the true way of all your loves upon earth."
I think of being pro-life not in political terms, but in one of humanities great songs of self expression and of freedom. Each person – so unique – has a beam of refracted light from the heart of God Himself. Wow! Who would not want to meet that person? How could I mirror the beauty I saw to someone who needed to see it?
I joined Biking for Babies because I found people with passions similar to mine. Find a culture to build up life itself. Provide for those who need material help to raise their children. Applaud the courage it takes for an at-risk mom to choose life. Cheer them on for years to come. Celebrate the milestones each new mom achieves for herself and her own well-being, and for her child. We are proclaiming that life is good, and it is good that you are here!
A Bientot!
Marianne is a graduate of Magnificat High School and Hillsdale College
Fundraising Progress
Goal: $2,347 | Raised: $674 | Progress: 29% | Updated: 09/16/2022
Check Out More DC Route Missionaries