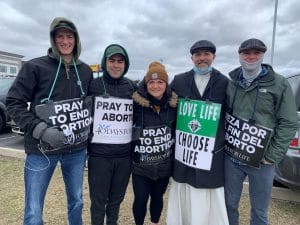 I am Jack Mannebach and this is my fourth year with Biking for Babies. I am currently completing my Masters in Applied Economics at Marquette University. I spent my first three years with B4B as a rider and now I will be Support Crew on the Southern Route. After the last three years I am very excited to take on this role and serve the riders throughout the week. I have always said that Support Crew members have a more stressful week than riders so I am look forward to seeing just how stressful it will be.
I have continued to return to Biking for Babies because of the stories I have heard about women going through unplanned pregnancies. My heart goes out to these women and inspire me. Last year during my training I was struggling with my own beliefs after thinking about a story I had heard about a 13 year old girl who was pregnant. As I thought about this young girl I thought, "I belief that she has to endure and go through far more than I could ever imagine." After spending some more time reflecting on this I can without a doubt say that I am pro-life. However, I belief it is a pro-lifers duty to support these women, and that is why I continue to come back.
Thank you for your support and generosity. It will go towards saving lives and supporting women in need!
Fundraising Progress
Goal: $10,000 | Raised: $14,489 | Progress: 145% | Updated: 09/16/2022
Check Out More MS Route Missionaries