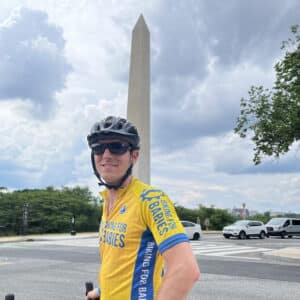 My name is Fr. Ed Guilloux and I'm a priest for the Catholic Diocese of Arlington, currently serving at St. John the Apostle in Leesburg, VA. I'm thrilled to be coming back for my fourth year of Biking for Babies.
Every year I have been amazed at how God has used this mission to transform the lives of so many people: the women and families served by the Pregnancy Centers we represent, the staff and volunteers who work in those centers, the countless people we encounter during the ride, and the missionaries including yours truly.
I keep on biking for babies because life is always worth living, and I'm happy to spread that Good News!
Fundraising Progress
Goal: $15,000 | Raised: $2,299 | Progress: 15% | Updated: 6/2/2023
Check Out More DC Route Missionaries