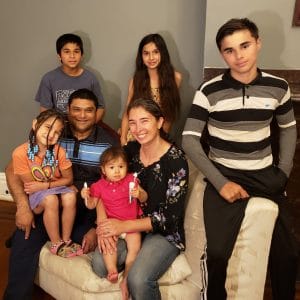 I'm Curtis Saxton from Philadelphia, PA. Though I'm the lucky one that gets to ride in Biking for Babies, my whole family is supporting by holding things down while I'm on the road. In our city last year, the official stats say that 562 people were murdered and unfortunately an additional 12,000+ kids were not given the opportunity to get to a birthday at all. In so many of these cases, mothers make the decisions they do because they are in really dire situations and feel like there is no hope. In my role as a pastor at Ekklesia of North Philadelphia, we have walked with several moms for whom an unexpected pregnancy has come on top of a pile of other challenges: securing stable housing, finding decent work, and caring for multiple older children including some with special needs. We've often teamed up in this work with Hope Pregnancy Center, and I'm honored to partner with them and humbly ask for your financial support.
For my many friends who are pro-choice, I ask you to consider: Isn't part of supporting a woman's right to choose ensuring that those who do wish to keep their child can do so without being beaten down by familial, social, and economic pressures to abort? Biking for Babies and Pregnancy Resource Centers like Hope are avowedly non-political: the point is to get resources into the hands of women who want them. In fact, in my role as Director at the Acelero Learning Head Start program, we've been able to partner with Hope's parent organization to bring high quality, academically rigorous preschool to local families, thus creating a continuum of services. My day job mission of getting our neighborhood kids to kindergarten on par with their peers from affluent environs can't happen if those childrens' lives are cut off before they have that chance.
For my friends who are pro-life, we do well to remember the words of Frederica Mathews-Green: "No one wants an abortion as she wants an ice-cream cone or a Porsche. She wants an abortion as an animal, caught in a trap, wants to gnaw off its own leg." How do we get to a place—both in the City of Brotherly Love and as a wider society—where hope abounds even in rough situations? I'll be on the bike for ~600 miles this summer, but the teams at Pregnancy Resource Centers will be walking with families for as long as we get them the support they need. Please prayerfully consider joining me on this journey.
Fundraising Progress
Goal: $5,000 | Raised: $5,496 | Progress: 110% | Updated: 09/16/2022
Check Out More OH Route Missionaries