Our 2022 guest speaker will be Tricia, a patient served by ThriVe pregnancy resource center in St. Louis, one of Biking for Babies' partnered pregnancy resource centers. ThriVe met Tricia in her crisis, her life of drugs and promiscuity, and supported her in having her baby Nehmiah and became a community of support on her journey toward faithful living and motherhood.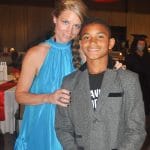 Pictured left with her son Nehmiah, she thrives on inspiring others to overcome the challenges of this world by embracing those obstacles as gifts that will elevate to a greater measure of compassion and a deeper rooted faith. Tricia will deliver a "once in a lifetime" level segment. We can't wait!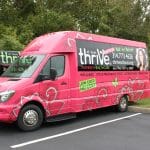 Here is Belle, Thrive's Mobile Medical Center! Belle travels around St. Louis offering free pregnancy tests and ultrasounds. Come tour this ultrasound bus at the Celebration!