ASHLEY WISKIRCHEN
Public Relations & Even Coordinator
Biking for Babies
---
Unlike many old testament prophets, and like so many of us today, Nehemiah wasn't pressed into service by the Lord's call. He learned of the destruction of the wall around Jerusalem and the decimation of its people and, unlike many of us today, he begged the Lord in prayer to go out and rebuild the wall – without being asked.
Nehemiah's life inside the castle was comfortable. It would have been easier to continue his work and daily life without concern for the plight of his people, but instead of closing his eyes to the injustice, instead of waiting for another man to pick up the responsibility, he prayed fervently to become involved. The fruits of his prayer led to the restoration of Jerusalem.
In our day the restoration of an entire people seems too great and impossible to accomplish. But I see a story of myself when I read the book of Nehemiah. With faith the size of a mustard seed, I asked the Lord just a few short years ago to bring me to the front-lines of building the Culture of Life in America. As a visual communicator, I am thrilled to use my gifts in marketing and public relations for Biking for Babies, and ultimately to raise awareness of the beautiful work that pregnancy resource clinics in our country carry out every day. I am not only willing, but excited, to promote the message of life that we so desperately need to hear in our culture. I am blessed to find myself on the 'front-lines' after years of prayer.
With the support of my husband, Kevyn, and our beautiful daughter Cecelia, I pray that we may all be the end of abortion through service to women and the unborn. That we be 'rebuilders of the wall', the wall of comfort, love, protection and support for women in crisis pregnancies and their precious children.
"…They said, "Let us begin building!" and they undertook the work with vigor."
—–
P.S. I highly recommend reading The Wall: Rebuilding a culture of life in America and ending abortion as we know it by Kirk Walden. This book truly breathed hope back into what I saw as the 'losing battle' against abortion in our country. Through the interpretation of the Book of Nehemiah and the explanation of the truth, beauty and goodness of the pro-life movement, Walden inspired me back into action and also inspired the deeper conversion and re entry into prayer for the culture of life that has led me to serve Biking for Babies today.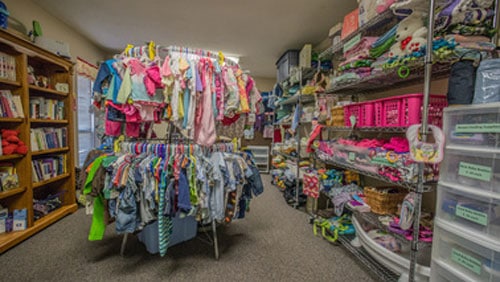 It is clear to me that My Life is a place of healing, hope and loving support. Even visiting them for just an hour, I felt the deep sense of calm and confidence their building and staff keep. With Christ at the core, generosity and care without judgment or discrimination, this center is a have for women who face an unplanned pregnancy…