2016 Support Crew members share stories from the road
So you've heard about our ride, and you're thinking "Man, I want to get involved, but I'm just not a cyclist." Boy, have we got a spot for you.
We're looking for young adults with servant hearts to come along on the adventure with us as we Bike Across America this summer! Our Support Crew are essential to our ride, nourishing riders as they cycle, keeping them safe and on-route, and providing laundry and ministering to them throughout the day and in the evenings.
Support crew-ing can be a tough job, they're the ones with the least amount of sleep and the most amount of filling-up-the-water-bottles, but we sat down with two former crew members to ask them about their experiences on the road and they shared with us some pretty awesome insights. So if you're thinking, "I want to do this thing, but I'm not sure how to get involved!" Check out these Q&A's from Kelsey Kuske and Caleb Kuske (new sibs-in-law!)
Q: How did you get connected to Biking for Babies?
Kelsey: I first heard of B4B first hand from Kevin Biese – he's always talking about it and somehow convinced my (now husband!) Tyler, to bike from Chicago, IL to Memphis, TN. I thought this was so crazy, but I decided I wanted to be on support crew for the training ride in Wisconsin, and loved it! I hopped in as support crew on the national ride and was amazed at the rider's dedication and the amazing folks we met along the way.
Caleb: B4B initially appealed to me because it was a way to become active in the pro-life movement. It provided a way to directly support women across the nation through action – not just words. That resonated with me. I got connected to it through my brother Tyler!
Q: What were you most nervous about going into the summer ride?
Kelsey: I was really nervous about getting lost… one major job of the support crew is helping direct the bikers on when & where to turn. I was like "what if we accidentally lead the bikers 50 miles off-route!?" But, luckily, that was all smooth sailing

Caleb: I felt pretty confident in everything we had planned for the ride. I guess I was also kind of nervous about what would happen if we got lost – or if we drove the van into a ditch or something…ha!
Q: How did you feel about the ride? Do you have a favorite memory?
Kelsey: I LOVED being support crew on the ride, because I learned so much about myself and my Faith. Being surrounded by others who are so strong in their Faith and beliefs challenged me and encouraged me to strengthen and deepen my own Faith. So, Caleb and I were in the car together, and of course, we're support crew, so we have all the food and snacks – and I can recall countless times when I'd already eaten 5 brownies and questioned whether or not one more would be too much (haha!) Caleb, being the voice of reason, always encouraged my terrible eating habits! I'm pretty sure I gained 10 lbs! But, seriously, support crew was so much fun. We sang, danced, played games and talked all throughout the ride.
Caleb:  I appreciated the manner in which this ride touched so many lives, whether we were able to meet everyone it impacted or not. In the back of my mind, I was constantly being reminded of the great number of people who would benefit from this and the lives it would save. My favorite memory are all the times we met people along the way while we were on the road. There were SO many people – at gas stations, stores, or even just on the side of the road that would talk with us and tell us about how excited they were about the work we were doing. That was incredible.
Q: Do you feel like the ride changed you or your outlook at all?
Kelsey: Yes – in so many ways! Before B4B, I really didn't know how to find my voice or place in the pro-life movement. I knew I was pro-life but wasn't sure how to share that with others. B4B made that possible, and since the ride I've stood in front of congregations of over 100 people and presented B4B's mission and the pro-life culture to them – that's something I would've been way too nervous to do before the ride!
Caleb: I felt truly changed after the ride. The whole experience taught me to be more vocal and I got so fired up about the pro-life movement in America. Being support crew on this adventure allowed me to see how Christ is calling us to get out there and be the leaders in this shift to a Culture of Life!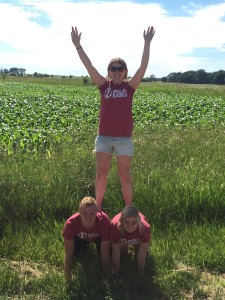 Q: What advice would you give to someone who wants to get involved as Support Crew for the 2017 ride?
Kelsey: DO IT!!! You will not regret this at all. Being a support crew member is a life-changing experience. There is something so deeply special about watching and supporting these riders as they bike hundreds of miles for the babies. As someone who was definitely not prepared to ride as a cyclist last year, I am so glad I was involved on the ride as their support crew. The bikers need you!
Caleb: If you're interested in support-crewing at all, just do it! It is a fantastic experience, definitely not an easy one at all times, but I will never forget the moments and memories that came from the ride.
Feeling inspired? Bring it to prayer, and then head over to learn more about our support crew, and fill out your application for the 2017 ride. Maybe Christ is calling you to be his hands and feet one of our four routes this year – the bikers need you, and so do the babies J
The following two tabs change content below.
Kelsey Olsen
My name is Kelsey Olson and I currently live in Madison, WI and am attending UW-Madison for Early Childhood Education. I was fortunate enough to be a part of the support crew for the Wisconsin training ride in summer of 2015, and the national ride in 2016. This is where I really fell in love with the Biking for Babies mission! I am so excited that I am able to be a part of the support crew this summer and I can't wait to spread the pro-life message.
Latest posts by Kelsey Olsen (see all)