Imagine: hundreds of young athletes biking through the heart of America, passed by thousands of drivers witnessing the extreme physical sacrifice of these riders – to bring awareness to clinics across the country that help women who find themselves in crisis pregnancies.
We're Biking for Babies, and that is our vision. To bring hundreds of young people together, on our newly expanded national ride, to show America that the Culture of Life in our country not only alive – but thriving – and even growing.
Every day, pregnancy resource clinics in America come to the aid of women who feel lost, burdened or hopeless when facing an unplanned pregnancy. With material support, friendship and hope these clinics reveal the truth of life to women and provide services for them throughout their pregnancy, and in most cases well into childhood.
This year, we're increasing our national rides from two to four, meaning we will spread our mission of hope and life in about eight more cities across the nation. We will bike over 2,500 miles across four routes to show our nation what the pro-life movement is made of…and we want you to consider joining us. Pray with us, cheer for us, support us – or even better – ride with us.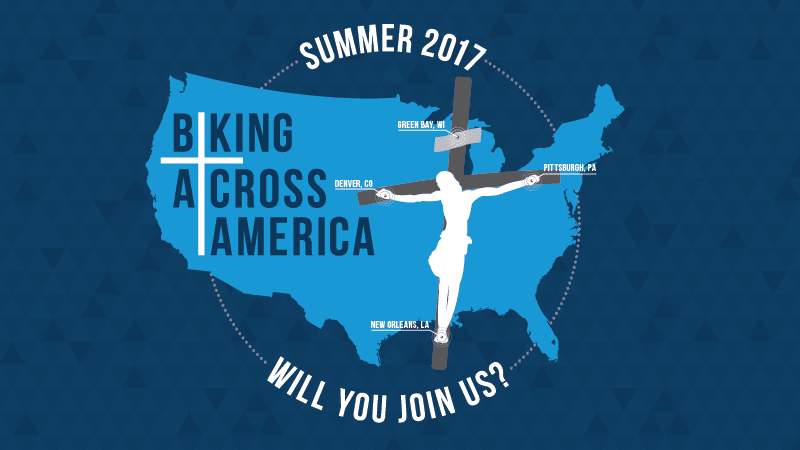 Yes, we are serious. Our riders partner with PRCs across the country to learn about their communities and missions, to help raise awareness of those services and to fundraise for their clinics. We're committed to helping our riders train physically, prepare spiritually and fundraise with integrity and charitable hearts. This is our mission, and we're excited to see it bear fruits of hope and encouragement.
Would you bike across America to support women in crisis pregnancies and their unborn children? Visit us online or email me if you want to learn more about the movement to renew the culture of life in America, one pedal at a time.
As Biking for Babies co-founder Mike Schaefer said, "The history of Biking for Babies is not best understood in miles bicycled or money fundraised, but, rather is part of the penetrating story of pro-life work that is alive and growing stronger—in our families, churches, communities, and in our own hearts."
The following two tabs change content below.
Sarah Collins
President, Biking for Babies 2017
As this year's president, I intend to lead this magnificent leadership team into our nation's culture of death and leave trails of the culture of Life all over the place (imagine a pro-life, flying-V from the Mighty Ducks)! I am a junior high youth minister from the lovely and humid state of Alabama (War Eagle), and my Instagram account features too many group selfies, God's Beauty in nature, and pictures of my incessant intake of coffee. Recognizing every individual's dignity and worth is a message I try to share daily, and Biking for Babies offers me a unique platform on which to do so.
Latest posts by Sarah Collins (see all)